December 29th by Botrax
Podcast: Play in new window | Download (Duration: 2:26:29 — 134.1MB)
Subscribe: Apple Podcasts | Google Podcasts | Email | RSS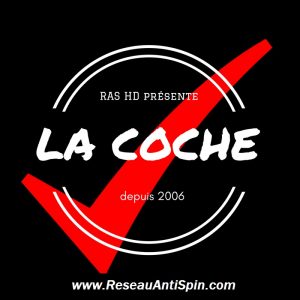 Cette semaine, je reçois Botrax et j'en profite pour y aller d'une grosse annonce concernant la suite des choses pour ReseauAntiSpin.com à partir de la 100e épisode.
Je fais un FBI Enquête et une Tweet Chronique et tout ça pour un 2h30 bien tassé comme on les aime.
Enjoy!
La Coche, c'est malaaaaaade!
FBI de la Maison Feu Bum Intello.
Président-Directeur-général et Membre Honoraire à vie du CRBO,
Éditeur-en-chef de Reseauantispin.com,
CEO de la Bum Coalition,
The Spin Slayer,
Monsieur Concept,
La Voix des Anonymes/The Voice of the Voiceless,
The Broka of chains,
Mister One Take,
The Blind Healer
The SOB – Son of a Beauceronne
The Creator of the Sound of Madness
The Rule Breaker, Risk Taker,
The Game Changer, Can-Am Warrior
The Quiet Revolutionner
And your Natural Spin Killaaaaaaaaa.
La Coche Live now:
1. BaladoQuebec avec Chat intégré: http://baladoquebec.ca/#!/endirect
2. TuneIn de BaladoQuebec en direct : http://tun.in/sfxSz
Abonnez-vous aux NOUVEAX Feed RSS exclusif des podcasts du Réseau Anti Spin HD:
1. iTunes: https://t.co/pcVzbETLWn
2. Androïd: http://reseauantispin.com/podcast/
Suivez-nous partout sur notre Réseau:
1. Twitter: @ReseauAntiSpin
2. Facebook: https://www.facebook.com/ReseauAntiSpin/
3. Internet: http://reseauantispin.com/
4. RAS Info: http://paper.li/ReseauAntiSpin#/
5. Reseau Anti Spin HD: http://reseauantispin.com/
Category: Participations, Réseau Anti-Spin |
0 |
Tags: None